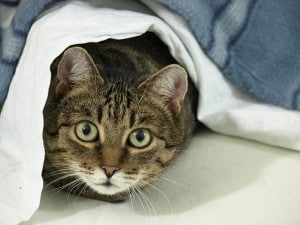 Photo Credit: Dubravko Soric
Here's a question that might keep you up at night. You look over at your cat, who is sleeping and purring peacefully next to you, and you wonder…
how did you get here?
Where did the domestic cat come from, and why did it make its home among people?
According to this Smithsonian article, all domestic cats descended from a Middle Eastern wildcat, Felis sylvestris, which translates to "cat of the woods." Cats were first domesticated in the Near East, and it is speculated that this process began over, wait for it… 12,000 years ago.
What was happening 12,000 years ago?
The first agricultural societies began to flourish in the Middle East's Fertile Crescent. The development of grain stores brought economic growth, but it also brought some undesirable visitors: rodents. Cats took advantage of this abundant food source and stuck around these early towns, just like feral cats today. Cats became an asset to crop owners because they turned out to be effective pest control!
Some people argue that cats, in a sense, domesticated themselves. Cats appeared to have invited themselves in, and over time people began to regard them fondly, especially cats with friendlier traits. Many cats adapted to this new farmland environment, which produced the dozens of house cat breeds we know and love today- the felis catus. Pet, stray, and feral cats all belong to this species that we call the domestic cat.
Cats have traveled and lived among people across the globe.
A burial site in Cyprus offers the first archaeological evidence of humans and cats living side-by-side, as far back as 9500 BC.
In ancient Egypt, cats were worshipped, mummified, and, as artwork suggests, kept on leashes as part of the cult of the goddess Bastet.
Cats boarded ships to the Americas, from Europe, and acted as pest control. Cats reportedly journeyed with Christopher Columbus, with the settlers at Jamestown, and aboard the Mayflower.
By the end of the 19th century, many Americans were starting to keep cats for not only utility purposes, but for companionship. Toward the end of World War I, cats were commonly accepted as house pets in the United States. Nowadays, cats are the most popular house pet, with 90 million domesticated cats getting cozy in 34% of U.S. homes.
Your love for your cats is expressed in how well you care for them! For superb veterinary services and devoted doctors, contact the Cat Clinic at Cherry Hill at (856) 662- 2662. It's our mission to keep your cats happy, healthy, and thriving for years to come!