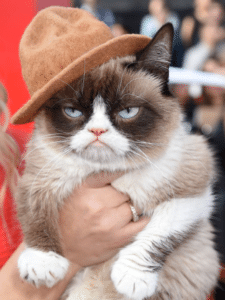 Photo Credit: Getty Images
When asked to think of famous cats, which ones do you recall first? Perhaps fictional characters such as the Cat in the Hat or Puss in Boots come to mind. We've compiled a list of real modern day cat celebrities that have effortlessly amassed huge followings of loving fans. Are you familiar with any of these famous felines?
1. Olivia Benson and Meredith Grey Swift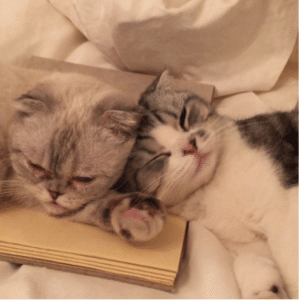 Photo Credit: Instagrammer @taylorswift
Taylor Swift's cats, named after Detective Olivia Benson from Law & Order and Meredith Grey from Grey's Anatomy, might just be responsible for the singer's staggering number of Instagram followers. Their antics and adorable expressions have caused them to quickly gain fans worldwide. These two beautiful kitties are Scottish Folds, which explains their small, downward tilted ears. Taylor Swift describes her fur babies as fun, social cats that make for good travel companions.
2. Tardar Sauce, AKA: "Grumpy Cat"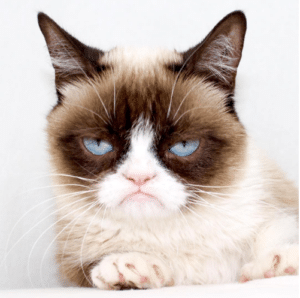 Photo Credit: Instagrammer @realgrumpycat
Grumpy Cat became an internet sensation in 2012 when a photograph of her unimpressed, disgruntled face was posted on the popular website Reddit. Since then, she has made appearances on the Today Show, Good Morning America, and American Idol, as well as in publications such as the Wall Street Journal and New York Magazine. Grumpy Cat's photo is often accompanied by hilarious negative captions that appeal to the pessimist in all of us. Her owner states that the grumpy expression is a result of feline dwarfism and an underbite, and that little Tardar Sauce isn't actually grumpy at all! She is described as a "good-tempered cat," despite the permanent scowl.
3. Lil Bub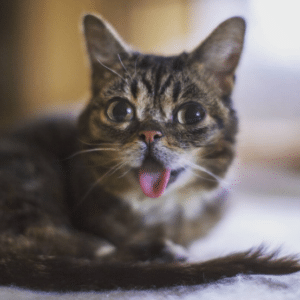 Photo Credit: Instagrammer @iamlilbub
Similar to Grumpy Cat, Lil Bub is an internet star whose adorably peculiar appearance rocketed her to fame. She has several genetic mutations which include extra toes and a short lower jaw that causes her tongue to hang out; she is also toothless! Lil Bub's owner, Mike Bridavsky, frequently does meet-and-greets with his furry friend at various animal shelters, which receive donations and a portion of the merchandise sales from each event. This four-legged celebrity has been featured on the Today Show, The View, and Good Morning America. She even has her own book, titled, "Lil Bub's Lil Book: The Extraordinary Life of the Most Amazing Cat on the Planet."
4. Stubbs: Mayor of Talkeetna, Alaska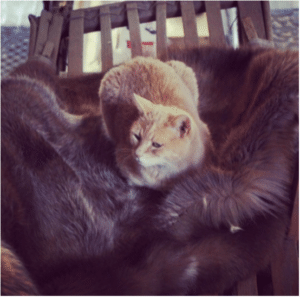 Photo Credit: Instagrammer @stubbsmayorcat
Stubbs the cat was voted the mayor of Talkeetna, Alaska when he was just a kitten; apparently the human candidates for the position just didn't measure up! Stubbs is now nearly 20 years old and resides in the upper room of a general store. He has done a good job of boosting tourism to the area (not many places can boast that they have a cat in office!) and keeping the streets free of vermin. What does a cat mayor do, you might ask? Stubbs spends his days wandering freely into the restaurants and shops of the town, occasionally enjoying a sip of water from a wineglass spiked with catnip. It sounds like the perfect life for a hardworking kitty politician!
Your furry family member might not be an internet sensation or hold political office, but we think that all cats deserve star treatment! Get in touch with a trusted cat veterinarian here at our office to schedule an appointment. We look forward to seeing you at The Cat Clinic at Cherry Hill!