We've finally reached that time of year when warm weather is here to stay. From outdoor parties to long days at the beach, we humans know how to enjoy the warm weather, but remember to keep your feline friends in mind. Here are some strategies to keep your cat cool all summer long.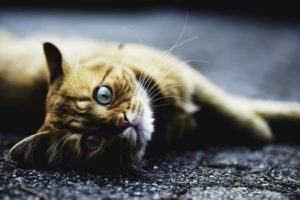 Check the Bedding
You've likely done a lot to keep you cat warm this winter with items like fuzzy blankets and fleece-lined beds, but it's just as important to keep your cat cool with a summer-appropriate sleeping situation. From a cardboard box to a plastic bin, any insulation-free space is a great solution for keeping your cat cool this summer.

It's Grooming Time
Cats may not need haircuts as often as dogs or even people, but it's important to keep their coats under control during the summer. Sometimes all it takes is a good brushing to eliminate any excess fur built up from the winter, but a professional grooming never hurts!

Keeping Your Cool
It may be tempting to turn off your AC or close your windows when you leave the house for the day, but remember your cat is stuck inside while you're at work! Try putting your air conditioning on a temperature setting so it switches on before it gets too hot, leaving screened windows and doors open, or drawing the curtains to block out the midday sun. These are all great ways to keep your cat (and your house!) cooler this summer.
Drink Up!
Just like you take care to stay hydrated on a hot summer day, leaving out enough water is key to keeping your cat cool this summer. Make sure there are plenty of places for your feline friend to drink from and keep them filled with fresh water at all times.
The Cat Clinic at Cherry Hill is Here to Help Keep Your Cat Cool this Summer!
We want you to make the most out of the summer sun with your kitty and hope you'll take the above tips to heart. If you notice your cat panting, confused, hiding, or lethargic, please give us a call as these can be signs of overheating and dehydration. Contact us by calling (865) 662-2662 or visit our office at 35 Haddonfield Road, Cherry Hill, NJ.