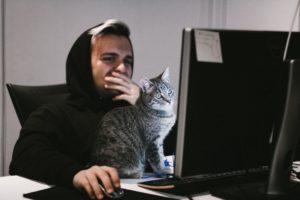 Working from Home isn't Working – My Cat is Distracting Me!
In wake of recent events, many people have found themselves working from home. To some, this is relief and a perk. To cat owners, however, working from home can be a challenge. Although cats are often stereotyped as self-serving and independent pets, we as cat owners know they can be just as needy as any dog or child. Meowing during conference calls, plopping down on your keyboard and work materials, and knocking over your water – they'll do whatever it takes to make sure you know they are your number one priority. It's enough to distract anybody from their work, but it doesn't have to be this way. The cat experts at Cat Clinic at Cherry Hill have a few solutions to help you work from home as efficiently as you do in the office, even with your kitty by your side.
We Can Work This Out – Tips for Working from Home with Your Kitty
When you work from home, your attention isn't always on your kitty. When your cat begins to cause a ruckus, it just means they want to feel included. Here are some tips to distract, placate, and include your cat during your work-from-home routine:
Give your cat her own space. First things first: to ensure your cat doesn't walk all over your keyboard or lay on your freshly inked notes, it's important to give your cat her own space. This may be setting her bed next to yours or laying out "decoy" work materials for your cat to lay on. An old keyboard you no longer use or an irrelevant notebook placed next to you act as great spots to distract your cat.
If your cat isn't buying it, create her own space in your vicinity, but out of reach. Sometimes our kitties want to be close to us, but the only option is in our lap. Make sure you are out of petting range to take away the temptation of crawling over your stuff.
Your cat needs to play! When you get home from work, you probably typically give your cat attention. When you're working from home, your cat doesn't know the difference. Play with your kitty on your lunch break, and better yet, set up playtime options that don't involve you. Puzzle toys are great for keeping your kitty entertained without your help.
Get to Work!
Having your beloved kitty near you while you work should be a comfort, not a headache. If you have more questions about how to keep your cat occupied while you work from home or would like to schedule an appointment for your kitty, contact the Cat Clinic at Cherry Hill at (856)- 662-2662. Happy working!