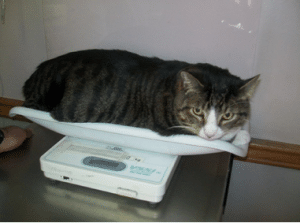 For some, the appearance of a fat cat is irresistibly cute—but let's consider the health of your pet first and foremost! When that extra pudge begins to threaten his or her overall well-being, it's time to investigate the source of the problem. It's a simple equation, really: overfeeding + lack of exercise = obesity for many cats. Happily, there are proactive steps you can take as a cat owner to restore your pet's fitness. Take a look at four ways you can help curb your kitty's weight:
Correct Your Cat's Diet
This one is definitely a no-brainer, but the answers as to "how" may not be so easily ascertained. Your best bet is to take your cat to a local veterinarian (like Cat Clinic at Cherry Hill!) and allow the professionals to determine your feline's caloric requirements, which type of food best suits his or her needs, and what a suitable serving might look like for your cat's diet. Ask about foods with normal amounts of fermentable fiber and fat to help keep your cat's skin and coat in tip-top shape during the weight loss process.
Get Your Cat in Shape
We don't know of any cat gyms in the area, but that shouldn't stop you from helping your companion become more active! Exercise has the power to burn calories, reduce appetite, transform body composition, and increase metabolic rate. It might seem unorthodox, but walking your cat is actually a great way to help increase both physical activity and mental stimulation. For indoor play, we suggest using interactive toys like plastic fishing poles and laser pointers.
Adjust Your Own Behavior
If your cat is overweight because of overfeeding or a sedentary lifestyle, then it may be time to adjust your habits as a pet-owner. Giving your kitty too many treats or not providing enough opportunities for exercise could be the reasons behind your cat's less-than-ideal physique.
Limit or Monitor Your Cat's Hunting
During their daily explorations, outdoor cats may be hunting and ingesting meals that you aren't even aware of. In order to get serious about your cat's weight, it may be necessary to keep your cat in the house for a while to avoid those unplanned dietary additions!
To formulate a comprehensive weight-loss plan for your cat, there's no better resource than your local Cherry Hill cat veterinarian. We look forward to making your cat's health our number-one priority! Come pay us a visit or get in touch today!