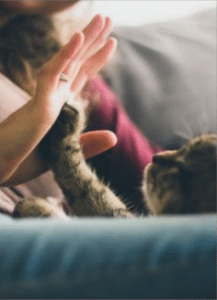 There's nothing quite like the bond between you and your cat. Whether you're trying to form a connection with your newly adopted friend or strengthen the existing relationship with your furry companion of many years, there are a few tried and true methods of doing so. As with any pet, trust is key—if your cat trusts you, you're already on your way to a beautiful relationship.
A common misconception that many people believe is that cats are incapable of having affection for their owners; every cat is unique, however, and although some might be more reserved than others, this certainly doesn't mean that all felines are cold and unloving! If you are trying to form a bond with a cat that you recently brought home, take time to observe your new arrival. Is he playful? Does he try to engage with you or others? Is he shy and fearful? No matter his personality, it's important to make him feel comfortable in his new surroundings. It is helpful to provide a special space or haven for your kitty to escape to when privacy is preferred; perhaps equip an area of the house with food, toys, and bedding.
As mentioned earlier, all cats are different, but it's probably safe to say that no cat enjoys a chaotic, loud, unstable environment. When approaching your pet, try not to make quick sudden movements or jarring noises. This kind of activity is often frightening and does not contribute to earning your cat's trust; rather, you're more likely to be viewed as a threat to be avoided. Offer your hand slowly and gently when trying to stroke the soft coat of your feline. Talk in a low, soothing tone. Sit on the floor and allow your cat to come to you on her own terms. If you are patient and persistent, you may be rewarded with some contented purring!
Lastly, food is always an excellent incentive. Use regular cat food or special treats to teach your cat that social interaction is a positive experience. Make sure the feeding schedule is consistent, and try to pet or talk to your cat while she eats. As she comes to understand that you are a provider of both affection and tasty treats, she is far more inclined to approach you.
When it comes down to it, your cat wants to be sure that he or she is safe and well cared for. Treating your pet with love and respect is the best way to promote a strong bond, though you may need to wait a period of time for your cat to feel comfortable enough to show it! If you suspect that your feline may have anxiety issues that go beyond the normal "new surroundings jitters," get in touch with your local cat veterinarian. The highly experienced and skilled doctors at The Cat Clinic at Cherry Hill are more than capable of identifying and addressing feline behavioral issues. Contact the office today!