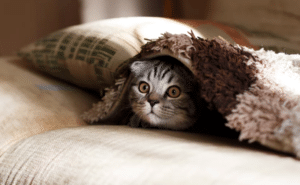 The New Year is a popular time to make resolutions and start a new journey to a healthier you. Unfortunately, most people give up on their New Year's resolutions in the first two weeks. That's why this year, we came up with 3 great ways you can team up with your cat to pursue a happier, healthier New Year.
Waking up Earlier
We could all use more time in the day, and for some, all that means is waking up a bit earlier each morning. By moving up the time you feed your cat in the morning, you'll have extra motivation to wake up earlier and start your day – plus a hungry cat isn't likely to let you sleep in too much.
Losing Weight
When you're trying to slim down after a sumptuous holiday season, sometimes it's the little things that mean the most! When you (or your cat) need to drop a few pounds, cut back on the treats and between-meals snacks and do something else instead! Playing with your cuddly cat can be just as rewarding as a bag of chips (and may have a more positive impact on your waistline).
Getting More Exercise
A great goal for the New Year is to be more active, though that's often easier said than done! Up your activity this year by taking walks – your cat can come, too! Not only is this a great way to bond with your kitty; walking your cat is a great way to sneak in some extra exercise and enjoy the great outdoors!
What kinds of resolutions have you made this year? Do you think adding your cat as an accountability partner will help you stick to them longer? Let us know!
To formulate a comprehensive weight-loss plan for your cat, there's no better resource than your local Cherry Hill cat veterinarian. We look forward to making your cat's health our number-one priority! Come pay us a visit or get in touch today!