Fighting like cats and dogs: it's a tale as old as time, and it leaves many cat owners wondering – can I get a dog with a cat at home? Believe it or not, cats and dogs can get along really well if given the opportunity. It takes work and patience but it's well worth it in the end.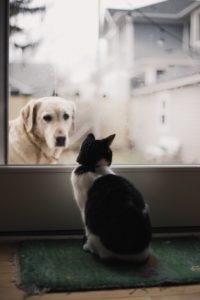 What to Expect
Your cat and dog could get along right from the start, but it's important to understand some of the conflicts that may arise when you bring a new animal into your home. Dogs love to chase, and cats don't like that so much and can get aggressive. Be sure to keep a close eye on your pets when they are getting to know each other, and be prepared to step in if your cat gets defensive. Introducing your pets to one another slowly and while under supervision is key to ensuring they don't mistake play for aggression if things go too far.

How to Lay Down The Law
Just like you train your dog to sit and go to the bathroom outside, you train your dog to respect your cat. Do not allow the dog to chase, be aggressive (even if playful), or do other things that make your cat show signs of distress. Ensure your cat has safe areas to be away from your dog without being overstimulated. Over time, they will grow used to one another.

Keep In Mind
It is much easier to get a pair of animals to get along if they have similar personalities. Don't bring a hyper dog home to your cranky cat, and vice versa.

At the end of the day, you can only do your best to hope that your pets get along. While they may never become BFF's, with these tips you can know you tried your hardest to train them to behave and cohabitate peacefully.

The Cat Clinic at Cherry Hill is here to assist you and your feline pal with the highest-quality medical services. Contact us by calling (856) 662-2662 and set up an appointment today! Our caring doctors are eager to meet you and your pet.