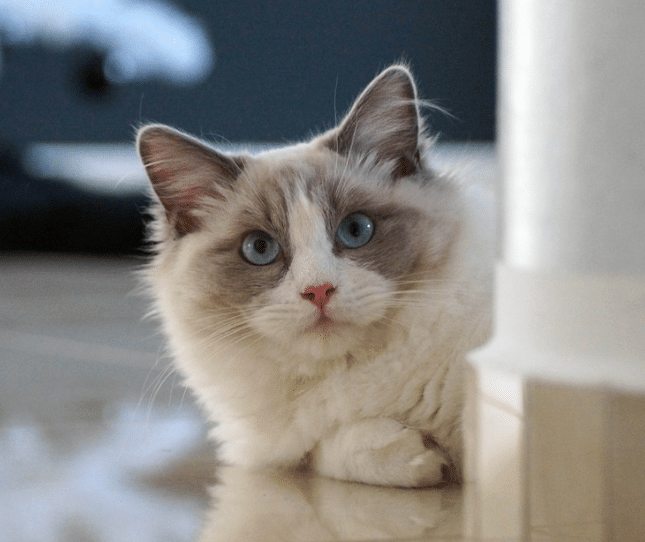 Anyone who has been to our practice can tell you that this Cherry Hill cat veterinarian isn't biased when it comes to which breeds are most preferable–we love them all! We have found, however, that many of our patients express a special fondness for Ragdoll cats, and it's not hard to see why. These felines are crowd favorites due to their strikingly beautiful appearance, docile nature, and their impressive ability to learn a few simple commands and tricks, such as fetch. Read on for a brief rundown on the history and characteristics of the charming Ragdoll breed!
California Breedin'
Ragdolls entered the scene during the 1960s when Ann Baker, a breeder in California, crossed a stray domestic white longhaired female cat with other free-roaming cats in her care. The results of this experimental breeding were kittens with ideal temperaments and attractive physical attributes. Baker continued to cross the offspring with individuals that possessed these desirable traits; thus, the Ragdoll breed was born.
Winning Personalities
The first question that may come to mind with this breed is, "What's with the name?" These unique, lovable kitties are called "ragdolls" for a reason–when picked up and cuddled, they have a tendency to collapse into their owner's arms. Ragdolls love to be held and will actively seek closeness with their humans whenever possible by staying near to your side and even greeting you at the door!
With such a strong need for attention, you might think that these cats would be exceptionally vocal. Not necessarily…Ragdolls will politely meow for food or a snuggle but are not known for being loud or persistent noisemakers. They are also unique in that they prefer not to ascend to great heights in the house. Their climbing habits typically only get them as far as the couch or bed rather than on high counters or tabletops. These well-mannered felines do enjoy a good scratching session, however, so provide some fun scratching posts to keep your cat happy and entertained.
Are you a proud owner of a Ragdoll cat? If so, you don't need us to tell you what wonderful and affectionate friends they make! Be sure to keep your beloved kitty in his or her best health so you can continue to enjoy that special companionship for years and years to come. Our office is renowned for being the cat veterinarian Cherry Hill residents trust for the best feline care. We can't wait to meet your furry family member; get in touch today to set up an appointment!