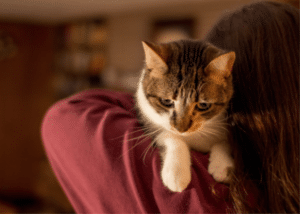 Tiny ears perked up at attention; round, curious eyes that take in your every movement; fast-as-lightning paws that skid and scurry across the floor; it's easy to become enamored with kittens and their adorable antics. Sadly, it's just as easy for the enchantment to fade as kittens grow into adults and eventually seniors. A responsible pet owner understands that adopting a four-legged family member is a lifetime commitment! Your cat relies on you for proper care during every stage of life, including the "golden years" when she's not quite so spry anymore. Regardless of your senior cat's slower pace of life, you can still do your part to keep her healthy, happy, and well-loved.
Maintain Your Feline's Fitness
A fat cat might strike some as a comical sight, but health problems are anything but funny. Doting cat owners often think that giving their kitties plenty of tasty tidbits is the best way of showing them love; don't go overboard! There's nothing wrong with giving your pet a treat every now and then (and it can certainly do wonders in gaining his trust and affection), but too much food will pack on the pounds. There's a difference between "pleasantly plump" and obese—obesity can shorten a cat's life, limit his mobility, make him lethargic, and cause a number of other health issues. Let him live to a ripe old age by keeping him fit and frisky!
Playtime is Still Important
It doesn't take much convincing to get a kitten to chase a bit of yarn or a laser pointer. Older cats, however, tend to give the impression that they can't be bothered with such nonsense. Encourage your senior cat's playful side as best as you can with stimulating toys (homemade or storebought!) and fun objects to climb or crawl into. Make sure the activities are low-impact and don't involve risky leaps from great heights, and keep in mind that periods of play shouldn't be too lengthy or exhausting.
Create a Safe Living Environment
Take a look around your home from the perspective of your aging furry friend—is it easy for him to jump up onto the bed or reach his favorite spot on top of the couch? Do you make sure to keep doors tightly closed so he can't wander outside and fall victim to larger animals and speeding vehicles? These are things you need to keep in mind when you have an older cat to care for! You may even want to place more litter boxes throughout the house for better ease of access.
Keep Up with Vet Visits
Lastly, it's essential that you bring your senior cat in for regular check-ups at least twice per year. Here at The Cat Clinic at Cherry Hill, we take geriatric care seriously and understand the special requirements of older cats. If you think it's time to bring your beloved pet to the cat veterinarian that people trust for excellent care, contact us and make an appointment today!