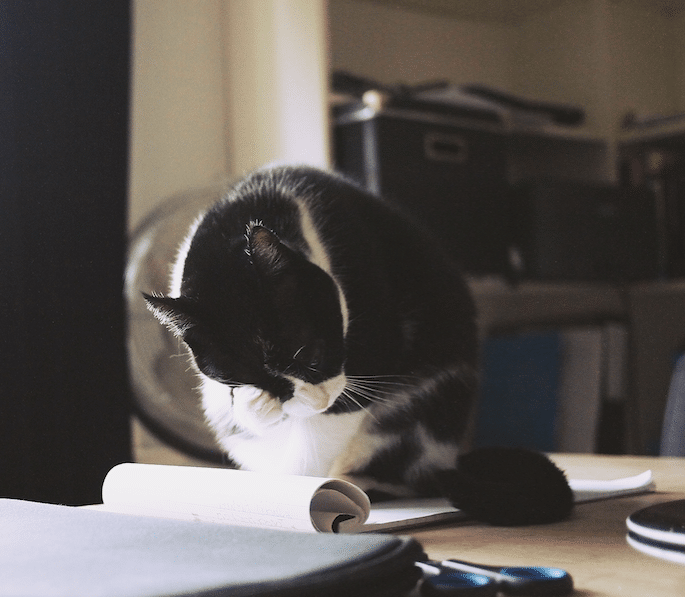 It's a new year, which means it's time to set some new goals! Many of us have resolved to eat healthier, get more exercise, read more books, spend less money–all of which are worthwhile ambitions. Have you ever wondered what kind of resolutions a cat might make for the new year? Maybe it's something only a Cherry Hill cat veterinarian would think about, but we had a little fun and came up with a few items that would likely be on your feline friend's to-do list for 2017…
Catch the red dot. Ok, so I didn't see any success in this regard for the past three years, but 2017 will be different–that tiny, lightning-fast speck will elude me no longer! This will be the year that I get my paws on the fiend once and for all. They don't call fast reflexes "cat-like" for nothing!
Keep the counters free of clutter. Last year saw a satisfying number of milk, juice, and water glasses tumbling to their doom from the kitchen counter, but I know I can do better. As long as I'm around when someone sets down a beverage, no cup will be left standing.
Take the wake-up call up a notch. The humans seem to have grown used to my morning routine of meowing for them to get up and serve breakfast, so it's time to get creative. My days as a tenor are behind me; I will now sing my demands in mezzo-soprano. For added shock value, it might be worthwhile to unsheath the claws a  bit through the bedspread…
Take more naps. Getting 16 hours of sleep per day just wasn't cutting it last year. The humans may be able to run on a mere eight hours (sometimes less!), but I resolve to take better care of myself! From now on I'll be getting at least 18 hours of shut-eye per day.
Spend more time on the computer. Whether it's sitting open on someone's lap or quietly plugged into the wall, that rectangular heat source will be seeing a lot more of me in 2017. I'll stay warm and toasty on the keyboard while simultaneously preventing my human from using it–I shouldn't have to compete for attention!
Do these sound about right? We have another goal to add to the list: Visit the vet! Your kitty might not be in full agreement with that one, but it's essential to keep her in good health with bi-annual trips to the cat veterinarian Cherry Hill residents trust. We encourage you to make an appointment with us today to ensure another healthy, happy year ahead with your favorite feline!