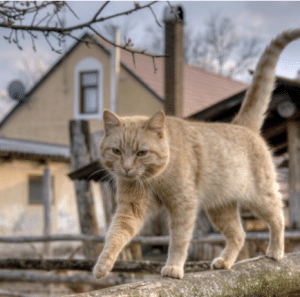 A cat's tail is like its own separate entity; it is constantly in motion, and each movement hints at underlying emotions. One moment, you watch it gently sweeping from side to side as your feline friend sits like a sphinx on the kitchen floor. Suddenly, he rises and stalks into the living room, tail held high with a slight curve at the tip. The dog comes careening unexpectedly around the corner and kitty leaps back with a tail that is now stiff and puffed out like it's been zapped with static electricity. We can guess that the progression of emotions was something along the lines of: calm and focused; confident and content; fearful and threatened.
Animals can't verbally communicate how they feel, but we can certainly pick up on their moods if we pay attention to body language. Changes in tail position are clear signals that tell you what your pet is feeling and how you can respond. Have you recognized these commonly displayed postures in your cat?
1. The Question Mark: A tall tail that is curled at the top indicates that your furry friend is feeling energized and playful. Pull out the toys and get ready for a flurry of flying paws!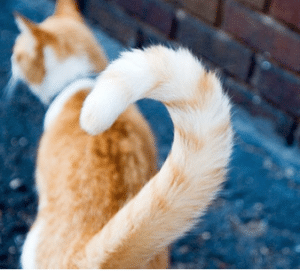 2. The Whip: When you see that tail lashing back and forth, there's a good chance your cat is not a happy camper. He's likely feeling fearful or aggressive toward something—try to identify the source of discomfort and remove it before the situation gets hairy.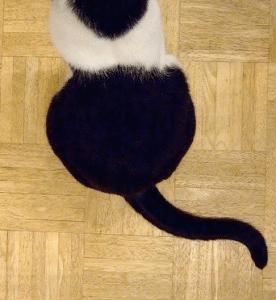 3. High and Straight: A tail that stands tall suggests a happy, comfortable demeanor. Your kitty is likely happy to see you and interested in receiving a few loving strokes.
4. Puffed Out: This position suggests that your cat is in a state of extreme agitation! Puffing the fur out is an attempt to make the body look larger and more intimidating. This posture is usually used during confrontations with other animals or whenever a threat is perceived. Try to calm him down with treats and soothing words.
Keep in mind that the position or movement of the ears quite often works in conjunction with tail position. Laid back ears typically convey fear or irritation while perked ears signal a happy, alert kitty. Now that you know how to better read your cat, take time to observe her around the house and pay attention to what the tail is telling you! As always, don't hesitate to contact your trusted cat veterinarian with any questions or concerns.