It's no secret that the holidays are a stressful time. Visiting family, cooking up a storm, and making sure to get the perfect present for everyone on your list is enough to make even the most organized person start to feel the pressure. But how does the holiday season impact your furry friends? And, more importantly, what can you do to help with holiday pet stress during this busy time?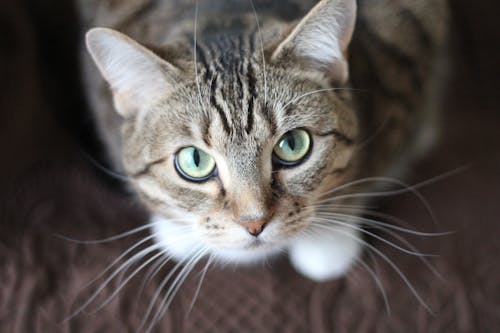 Signs Your Cat is Anxious
Changes in Behavior
Some cats LOVE to be around their person, others prefer to be by themselves, but any drastic changes in your cat's behavior, such as extreme isolation or uncharacteristic clinginess, could indicate that their stress levels are a bit high.
They Have a LOT to Say
If you have a chatty cat, it may be difficult to determine if your cat is more vocal than usual, but changes in the quantity, volume, or tone of your cat's meow may be due to increased anxiety. They're stressed and they want you to know it!
"Accidents" Happen
If your cat suddenly "forgets" how to use the litterbox, it's time to take a hard look at what could be causing your pet so much stress. They can't tell you what's wrong, so they have to behave in a way that shows you how they are feeling. It may be smelly and annoying to have to clean up after your pet when they miss the litterbox, but it's important to understand how they are feeling so you can do your best to improve the situation sooner rather than later.
Increased Irritability
If your cat starts acting out, biting, and scratching – even when unprovoked – it's time to take a trip to the vet to figure out what's wrong. Small behavioral changes could indicate environmental stress but if your cat adopts a whole new personality, it could be a sign that something much more serious is going on.
How to Help Reduce Holiday Pet Stress
Keep your Kitty Busy
Just like overstimulation can lead to anxiety, understimulation can lead to boredom and acting out. Making sure your cat has plenty of ways to keep busy like cat trees, interactive toys, and of course quality time to play with you, is key to keeping them stimulated and reduce anxiety.
Quiet Down
Cats have sensitive ears, making the hustle and bustle of the holiday season especially loud and stressful for them. Keeping devices at a moderate volume and giving your cat an area to go to escape the noise are two simple ways to reduce overwhelm and help your cat calm down.
Talk to a Professional
If your cat is still showing serious signs of stress despite your intervention, there may be something else going on. Don't hesitate to reach out to your vet for additional advice, tips, or insight into your cat's behavior. Remember, your pets are your family too and it's important to take care of them during the holiday season.
When it comes to pet stress, know you can always come to The Cat Clinic at Cherry Hill for advice and insight into your cat's behavior. Whether it's a recent change in attitude or an ongoing behavioral issue, we'll do whatever we can to assess the situation and help you come up with a solution that works for your pet and your family. Contact the office today to schedule an appointment!